Imagine starting your day with a refreshing swim in your backyard, 365 days a year, through rain, snow, and bright sunshine.
Having a swim spa right at your home has numerous benefits. It's an excellent way to exercise, relax, and entertain.
Whether you're an athlete, a busy professional, or a retiree, owning a swim spa can significantly enhance your lifestyle.
If you're in the process of buying a swim spa, keep reading!
In our swim spa guide, we're breaking down everything you need to know to not only find your dream swim spa but also be prepared for its arrival.
Let's dive in!
Factors to Consider when Choosing the Size
The size of the swim spa you select should correlate with your intended use.
There are three major considerations that will impact which swim spa size is right for you:
The size of your backyard
How many people will be in your spa
Your height
When planning to buy a swim spa, the first thing you need to consider is your available outdoor space.
Before beginning your search, take accurate measurements of the area you plan to use for your swim spa to ensure the one you choose will properly fit within the space.
Additionally, the more people you plan on having in your spa at one time, the bigger the spa should be.
You may be getting a swim spa with the goal of adding some gentle cardio to the beginning of your day.
However, you could be considering investing in a swim spa to provide your kids with a place to play and enjoy the outdoors 365 days a year.
Whatever your reason, it will influence the amount of space you'll need and should be carefully considered.
Lastly, how tall you are is an important factor to consider.
Some swim spas have a longer swim area than others, and if you're tall, you'll need the extra space.
The size of your swim spa should be able to easily accommodate your individual needs.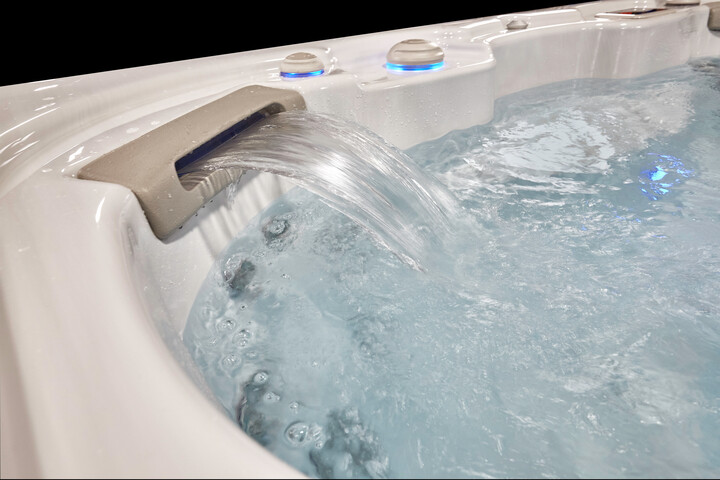 Swim Spa Features and Components To Consider
The features in swim spas are diverse and can significantly influence your overall experience.
Not only do they vary based on the brand, but also on the specific model each brand offers.
Let's delve into some of the major components you should consider.
Swim Current Systems
One of the defining characteristics of swim spas is their swim current system.
This system allows you to swim against a steady flow of water, mimicking a lap pool experience but in a compact space.
When it comes to swim jets, you'll want to consider two things:
Range of speed
Design and placement
Swim jets provide a range of speeds, ensuring the current can match your unique needs.
This means it suits both beginners learning to swim and professional swimmers seeking high-intensity workouts.
When it comes to the current in your swim spa, you'll want to consider the range of speeds they offer and ensure it can provide the current you're looking for.
The design and placement of the swim jets are equally as important and will influence your experience each time you paddle against the current.
While some systems produce a direct current for you to swim against, others, like the S150 Swim Spa, have a unique layered design that sends a current below you as well to help keep your body in the best position as you swim.
Heating Systems
Swim spas feature built-in heating systems that allow you to set your desired water temperature, and some even include vents to give you more control over your heat retention from season to season.
Whether you're inclined towards a warm, soothing soak or a brisk, invigorating swim, a competent heating system can cater to your needs all year round.
Additionally, there are swim spas that are designed to allow for dual temperatures, such as the Hydropool AquaSport 19 DTAX, which has a separate hot tub portion.
This design allows you to keep your swimming areas cooler while maintaining the cozy, therapeutic heat in the hot tub section.
Filtration Systems
High-quality filtration systems are critical in maintaining the cleanliness and safety of your swim spa's water.
These systems work to remove impurities and sanitize the water, ensuring a hygienic swim spa environment.
As technology has advanced, filtration systems have become more efficient, not only keeping run times down but energy costs lower!
When exploring your options, consider the kind of filtration systems included and how efficient they are compared to other models.
Surface Options
Some swim spas provide gripped flooring for additional stability when you're exercising in the water.
This feature is particularly useful for intense swim workouts or aquatic therapy, reducing the risk of slipping.
Furthermore, gripped floors also add a layer of safety while your kids are in the water, reducing the risks of slips and trips while amplifying the fun they can have!
Control Panels
Control panels are your interface with the swim spa.
Modern swim spas come with intuitive digital control panels for easy operation. Some even have WiFi connectivity for remote control.
Lighting Options
Many swim spas come with LED lighting, but not all offer various colors for you to choose from.
These lights not only create a captivating element to your swim spa but also enhance safety while you're in the water after dark.
Furthermore, adding a hint of color to your time in the water can even help support your emotional health through chromotherapy!
Massage Jets
While swim spas offer an unmatched swim experience, they also have impressive hydrotherapy capabilities.
Each swim spa will have various hot tub seats, with each one often boasting its own unique configuration of jets to target various muscles throughout your body.
When exploring your options, consider if the jets would target the muscles you seem to struggle with most.
Sound Systems
If you enjoy listening to music while you work out or want to amplify your relaxation, consider investing in a model that includes an integrated sound system.
While not standard on most models, there are some, such as the TidalFit®️ Active PLus EP-12, that include an optional audio system you can add on.
4 Things To Do Before Buying A Swim Spa
1. Set Your Budget
Swim spas are a significant investment, so it's important to be prepared.
Before you start exploring your options, set a realistic budget. With swim spas being such a significant purchase, consider financing options.
Through financing, you can make your swim spa more affordable and ensure you don't have to worry about a high upfront cost.
Furthermore, you'll want to consider not just the purchase price but also the ongoing costs like maintenance, energy use, and potential repairs.
2. Explore Different Brands
Invest time in researching different swim spa brands and manufacturers.
Look for reputable companies with a history of producing high-quality, durable swim spas.
At Hot Tub Central, we carry three different brands, each providing its own unique designs and features to meet a variety of lifestyles and needs.
3. Considering Warranties
Your swim spa should provide you with years of enjoyment, and your warranty will help ensure you're covered should any issues arise down the line.
A solid warranty and after-sales support are essential. They provide peace of mind and ensure that any issues that arise are handled promptly and professionally.
4. Apply For Financing
As we've mentioned above, swim spas are an investment, and many dealers offer financing options to make them ultra-affordable.
As you explore the various dealerships, ensure they provide financing options for you to take advantage of.
How To Prepare For Your Swim Spas Installation
For your installation, it'll be vital to work alongside your dealer. Swim spas are large and require special equipment to have them delivered, such as a crane.
Your dealership will be able to work alongside you to help you prepare and ensure you have all the right services in place to have your swim spa delivered safely.
Choose Your Location
Not only does the space you choose for your swim spa have to be large enough to fit it, but it also should be close to a power source and water source.
One of the best options is to install your swim spa directly alongside your deck, not only making it simple to get in and out of the water but also providing easy access for maintenance.
Install a Foundation
Just like a hot tub, swim spas need a flat, durable foundation beneath them.
This foundation keeps them from slowly sinking into the ground or being damaged over time if the weight is not evenly distributed.
One of the easiest foundations is a concrete slab, being both affordable and easy to install prior to your swim spa's arrival.
Electrical Requirements
When it comes to powering your swim spa, you'll need to have the right connections in place prior to its arrival.
Swim spas need a dedicated electrical supply, and you may need to hire an electrician to handle the installation.
Before delivery, talk to your dealership about installation requirements. They may even be partnered with local professionals to connect you with.
Swim Spas For Sale in New Jersey
At Hot Tub Central, we understand the importance of finding a swim spa that perfectly fits your needs, which is why we carry a range of swim spas to choose from.
That's why we stock a range of high-quality models from Hydropool, Bullfrog®️ Spas, and TidalFit®️ Swim Spas.
Discover your new favorite backyard escape. Visit your local showroom in Toms River, Oakhurst, or Manalapan today to explore your options in person.