Hot tubs have been providing soothing relief and amplifying at-home relaxation for people across the globe for decades.
Adding a backyard hot tub to your space is a great way to elevate not only your enjoyment, but also the value of your home.
With impressive health benefits ranging from pain relief to improved sleep, it's no shock that the market has welcomed many new brands and models to the industry, each with its own unique designs and technological innovations to elevate your experience even more.
With so many options, you may be left wondering, "how do I know which hot tub is best?"
That's where we come in!
With a range of brands and models in our showroom, we've seen firsthand how each one has benefited our customers, and we're sharing them with you in this article.
Keep reading to discover some of the best backyard hot tubs and the features that make them stand apart.
9 Best Backyard Hot Tubs
Hot tubs come in many hot tub shapes and hot tub sizes, and both your needs and your backyard will have a significant influence over which ones are the perfect fit for you.
To make this easy, we've created the ultimate list of backyard hot tubs, from small models that fit three to impressive spas suitable for ten.
Small Backyard Hot Tubs
These hot tubs seat anywhere from three to four people, providing the perfect solution for smaller backyards while creating an intimate escape for you to share with your loved ones.
Here are three of the most powerful options on the market.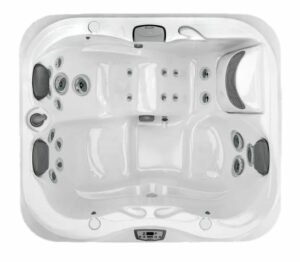 J-315™️ – 3-Person Hot Tub
The J-315™️ is a Jacuzzi®️ Hot Tub that is loaded with premium features.
With its PowerPro™️ Jets and upright lounge seat, this small backyard hot tub is maximizing your hydrotherapy experience while maintaining a small footprint.
You'll easily be able to treat every aching muscle in your body, from your shoulders to your feet, treating yourself to a luxury massage every day of the week.
Outfitted with a CLEARRAY®️ Active Oxygen™️ system, your water care will be a breeze, keeping your water clean and clear through the power of oxygen and light.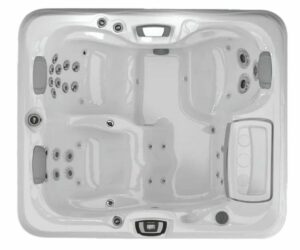 Capri®️ – 3-Person Hot Tub
This Sundance®️ Spas hot tub provides a stunning exterior and an unmatched massage experience.
Boasting a soothing Accu-Ssage™️ Therapy Seat to treat your aching back and shoulder muscles and a complete lounger equipped with Pulsator™️ Jets to target your wrists, the Capri®️ will leave you completely relaxed after each session.
To elevate your experience even further, this model includes Silent Air®️ Injector Jets paired with SunScents Technology to gently soothe your muscles while filling the air with calming aromatherapy.
Watch how SunScentes work to elevate your session in this quick video: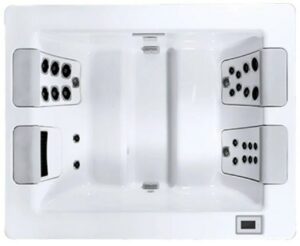 STIL5 – 4-Person Hot Tub
The STIL-5 is a stunning four-person hot tub that boasts a one-of-a-kind design with two bench seats for side-by-side massages.
Like many Bullfrog Spas®️ hot tubs, this model maximizes your massage flexibility with the interchangeable JetPak Therapy System™️.
Easily target the muscles that need relief the most by switching out one JetPak for another with the combination of jets you need at that moment.
With ample built-in features, from premium waterfalls and high-density insulation, along with a wide range of optional features from audio systems, purifiers, and premium water care systems, creating the spa of your dreams has never been easier.
Mid-Size Backyard Hot Tubs
Mid-size spas include seating for five to seven adults and are the perfect solution for small families who want to reimagine quality time.
Here are three that are sure to leave you in awe!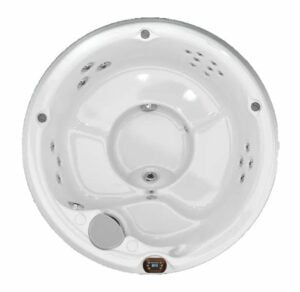 Denali®️ – 5-Person Hot Tub
With its unique circular shape, the Denali®️ makes it easy to share your spa with up to four of your favorite people without needing a large space.
This spa will captivate your guests, creating a soothing whirlpool experience while boasting four different massage options to easily meet your changing needs day to day.
This Sundance®️ Spas hot tub includes a jetted dome to soothe your overworked feet and was thoughtfully designed with varying levels, ensuring everyone can find a comfortable seat that fits their body.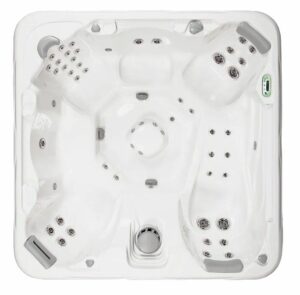 850L Deluxe – 6-Person Hot Tub
The 850L-Deluxe is a hot tub by Artesian Spas™️ that easily fits six.
With a full-length lounger and two upright seats that provide a full body massage experience, it's never been easier to soak up all the benefits of a shoulder-to-toe deep tissue massage and share it with your loved ones.
This backyard hot tub is a stunning addition to any space.
Better yet, with its six different jet configurations, and large open area, this spa is perfect to share with your kids and treat yourself to a different massage every day of the week.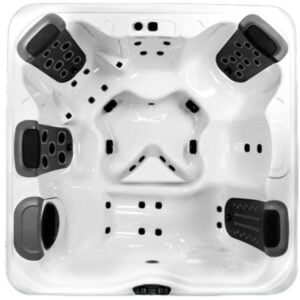 R8L – 7-Person Hot Tub
This Bullfrog Spas®️ model will be a welcome addition to your backyard.
Boasting four seats outfitted with the JetPak Therapy System™️, and two full-body massage options, the R8L is the ultimate mid-size hot tub.
This spa will whisk you away and wash away all your stress each time you step into the water.
Simply choose the perfect JetPak to target your aches and pains, and lean back for a top-quality hydromassage.
Large Backyard Hot Tubs
If you're looking for a family-friendly hot tub and have the space for it, a large backyard hot tub is the perfect route to take.
Seating anywhere from eight to ten people, these hot tubs provide the ultimate backyard escape for people of all ages.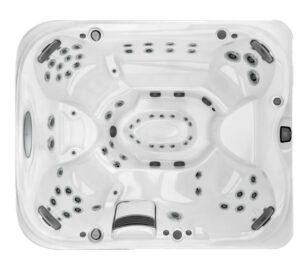 J-495™️ – 9-Person Hot Tub
The J-495™️ is a top-tier spa that you can share with up to eight of your friends and is a stunning addition to any backyard with its elegant high-back design.
Enjoy a side-by-side massage on the unique bench seat, or treat every muscle in your body to a luxurious massage in the RX Jet Therapy Seat.
With its 5-stage filtration system and CLEARRAY®️ Active Oxygen™️ System, this Jacuzzi®️ Hot Tub model takes the work out of your water care. Enjoy clean water with less work, and feel confident every time you step into the crystal clear water.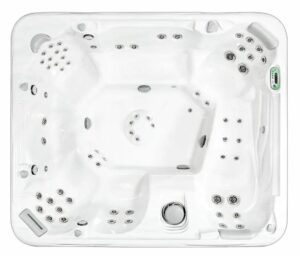 965L Deluxe – 9-Person Hot Tub
Boasting an impressive range of jet configurations with three full-body massage options, Artesian Spas™️ 965L Deluxe has everything you need to create a soothing escape that's equally as fun for the kids.
This model includes a jetted footwell, ensuring you can treat your overworked feet from every seat, and a full-length lounger to target all your major muscle groups.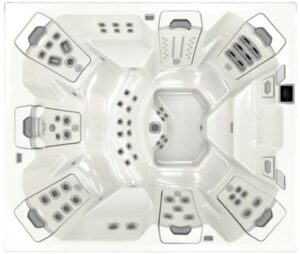 M9 – 10-Person Hot Tub
The M9 is the ultimate family-friendly hot tub and is easily the largest one in our showroom, seating up to ten adults and boasting seven interchangeable JetPaks.
This model does it all.
With three full-body massage seats spanning one entire side of this spa, you can enjoy a romantic evening and a side-by-side massage with your loved one.
Or, throw a memorable hot tub party and invite all your favorite people to join. As the kids splash around the open center, you and your friends can reconnect and enjoy a relaxing massage.
Are Outdoor Hot Tubs Expensive to Run?
Adding a backyard hot tub to your home will certainly have an effect on your energy bills, much like anything else you may add to your space.
The good news is that many hot tubs have been expertly designed to easily withstand even the most extreme temperatures and have become impressively energy efficient.
Some factors to consider when it comes to your hot tub's energy efficiency include its:
Insulation
Shell design
Cabinetry
Circulation pumps
Heating element
Each of these factors contributes to the efficiency of your spa, whether it's through locking in heat or how it functions to support your system.
To enhance your spa's efficiency and keep energy bills low, consider these factors when choosing your model and the optional upgrades offered for your spa that may give it an additional boost.
Find The Best Backyard Hot Tubs in Toms River, NJ
If one of the many models listed above caught your attention and you can't wait to see it in person, Hot Tub Central is the place to go.
With over 30 years of serving communities throughout New Jersey, including Toms River, Oakhurst, and Manalapan, our team of experts can make finding your dream spa a breeze.
Visit your local showroom to explore our wide range of hot tubs, or contact us to get all your questions answered.