If you've recently begun shopping for your new home spa, you may have noticed there are various hot tub brands to choose from.
If you're concerned about choosing the right one and are unsure of the differences each brand offers, this hot tub buyer's guide is for you.
Finding your dream spa can be challenging with so many brands on the market.
It's easy to become overwhelmed as you consider all the options, but knowing what to look for can help narrow down which brand has what you need.
In this article, we'll be breaking down the five best hot tub brands to help you better understand what each one offers and include some tips to help you decide which one is right for you.
Ready to explore some of the most well-known brands in the industry?
Let's get started.
The 5 Best Hot Tub Brands To Consider in 2023
Not all hot tubs are created equal, and each brand will have certain aspects of their spa that only they can offer you.
If you've just begun your hot tub search, or want to better understand the differences between the five best hot tub brands on the market, keep reading!
1. Jacuzzi®️ Hot Tubs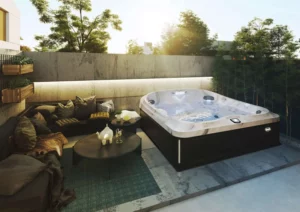 Jacuzzi®️ Hot Tubs have been leading the industry for over 60 years and are the ones that started it all, becoming one of the most well-known brands, and for good reason.
These hot tubs have evolved over the years to include innovative, high-end designs with an impressive range of speciality features to add to any of their models.
Jacuzzi®️ Hot Tubs come in four distinct collections, each with its own unique designs, systems, and price points.
J-200TM Classic Collection
J-300TM Comfort Collection
J-400TM Designer Collection
Jacuzzi®️ PlayTM Collection
Every hot tub they offer has been designed with the user experience leading the way.
With adjustable headrests and high back designs, Jacuzzi®️ Hot Tubs ensure you can enjoy a top-tier spa session no matter your height.
With models made for three to ones built to seat nine, Jacuzzi®️ Hot Tubs offer a robust selection of spas for you to choose from, each created with the same high-quality expectations.
These spas have been designed with various jet configurations, including the exceptional PowerProTM jets. They easily create the most luxurious hydrotherapy experience for every person who leans back for their daily massage.
To make your session even more enjoyable, these spas are designed to ensure each jet provides equal pressure so that you can have a powerful, reliable massage from every seat.
Their designs don't only consider how you'd feel when soaking beneath the warm water. They've also been outfitted with modern technology to make maintaining them simple.
All new Jacuzzi®️ Hot Tubs are designed to include a CLEARRAY®️ Active OxygenTM system to support the health of your water, making it easier for you to maintain its crystal clear state.
If you're looking for one of the best hot tub brands on the market with decades of experience and innovation backing the design of your spa, a Jacuzzi®️ Hot Tub should be one of the first on your list!
2. Sundance®️ Spas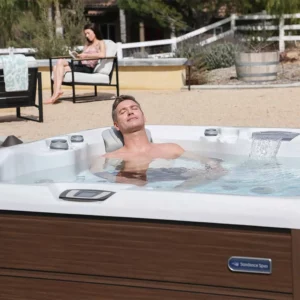 Sundance®️ Spas is another brand making big waves in the industry.
They provide a substantial range of models, with their smallest seating three adults, to one of their largest units boasting seven seating options.
With five different series, it's easy to find a model that fits your budget and provides the awe-inducing experience you're looking for.
Sundance Splash®️ Series
680TM Series
780TM Series
880TM Series
980TM Series
With over 35 years of experience, Sundance®️ Spas has been redefining relaxation in the industry with patented technology to elevate their spas above the competition.
To optimize your massage experience, many Sundance®️ Spas models have been designed with powerful Fluidix®️ jets.
These jets have been strategically placed throughout their spas with reflexology and acupuncture in mind, precisely targeting your muscles to induce an unmatched relaxation experience.
Sundance®️ Spas have taken relaxation even further with the inclusion of Silent Air®️ Injector Jets in many of their updated models. These jets provide a gentle massage experience and are also equipped with SunScents technology, making it simple to add aromatherapy to your spa session.
To further enhance your full-body release, Sundance®️ Spas has outfitted the models in one of their hot tub series with Accu-SsageTM seats. These seats are designed to provide a deep tissue massage that washes away tension and stress.
To amplify this even more, their Optima®️ hot tub includes uniquely positioned jets to target your hips, easing your aching joints after a long day.
For a top-quality hot tub that boasts an impressive range of options to support your entire body, Sundance®️ Spas is sure to have a model to meet your needs.
3. Bullfrog Spas®️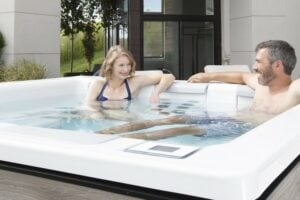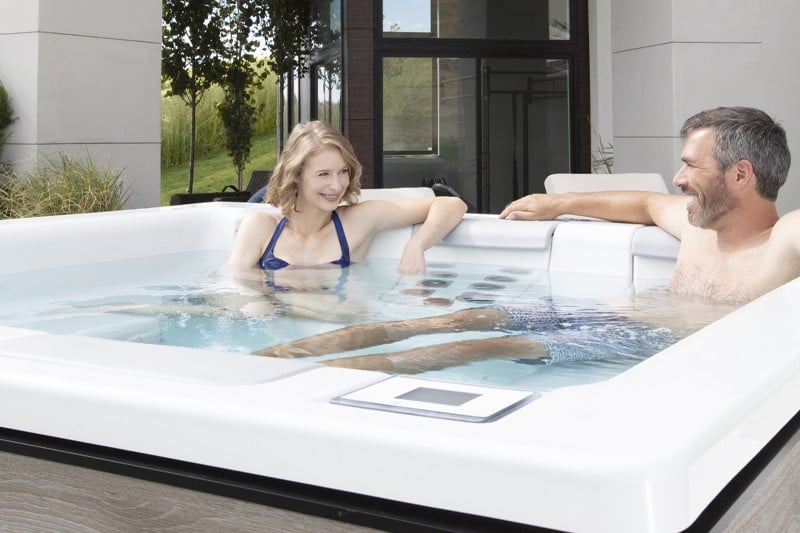 As one of the younger hot tub brands, Bullfrog Spas®️ is refining the user experience and focussing on more than just how enjoyable your daily soak is.
These spas have been designed using Bullfrog Spas®️ patented EnduraFrameTM, which uses ABS materials to protect your spa from the inside out.
By excluding the use of wood and metal, every Bullfrog Spas®️ model has an impressive lifespan, ensuring you never have to worry about rotting wood or rusting metal on your cabinet.
Their structural design isn't the only place this brand shines.
Many Bullfrog Spa®️ hot tubs have been designed with complete customization in mind.
Some of their hot tubs, such as those in their X SeriesTM like the X7L include the traditional built-in jet configurations found in other brands.
However, to create a truly unique experience, models from their other series, such as the A7L have been outfitted with Bullfrog Spas®️ interchangeable JetPak®️ Therapy SystemTM.
These hot tubs make it possible to easily switch out jet configurations, ensuring you can easily target the muscles that need it most.
Simply switch one JetPak®️ for any of the other 18 variations that may be better suited to target where your tightness is each day. This system ensures you'll effectively treat your pain any day of the week.
To make this system even more alluring, the JetPak®️ Therapy SystemTM ensures that most of your plumbing is connected directly to the JetPak®️, minimizing the amount of plumbing inside your hot tub.
This means fewer leaks and easier maintenance!
Bullfrog Spas®️ developed hot tubs to outfit five different series, with models built for three to ones that seat ten.
A SeriesTM
M SeriesTM
R SeriesTM
X SeriesTM
STILTM
If you need a spa that can easily adjust to your ever-changing needs, a Bullfrog®️ Spa would be the perfect fit.
4. Artesian SpasTM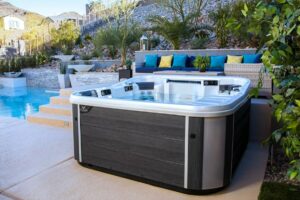 Artesian SpasTM have created a hot tub that's easily suited to everyone's needs.
With models falling under two unique collections, these hot tubs are designed with smaller yards in mind, ensuring a quality spa session is affordable and accessible to everyone.
In their Garden Spas collection, you'll find convenient plug-and-play models that make it easy to enjoy your first spa session the same day it's delivered. These models have also been designed with inventive seating arrangements to make it easy to have various seating options, even in small yards.
Their South Seas SpasTM collection focuses on larger models with various jet configurations. With lounge seating options, you can experience a powerful full-body massage while you socialize with up to eight of your family and friends.
Each of their South Seas SpasTM includes jetted footwells to ensure you can relax beneath the crystal-clear water as the jets massage you from head to toe.
What makes Artesian SpasTM stand apart from other brands is its innovative customization options.
Using their DIRECTFLOW Personal Control®️ System, you can easily adjust the power of each seat, providing a truly customizable massage experience. Each person in your spa will be able to enjoy a massage tailored specifically to them through this system.
Even more, this system optimizes your spa's energy use, making it one of the most energy-efficient hot tub brands on the market.
A hot tub from Artesian SpasTM would be ideal if you want complete control over your massage experience with the push of a button, ensuring you can maximize your enjoyment each time you relax in your spa.
5. Caldera Spas®️
The final brand to complete our 2023 guide of the best hot tub brands is Caldera Spas®️.
All Caldera Spas®️ hot tubs fall within one of their three series:
Utopia Series
Paradise Series
Vacanza Series
These spas have been designed with affordability in mind, without compromising on quality.
With various sizes and shapes, these hot tubs have become a favorite among families across the country.
The unique corner design of their Aventine®️ hot tub makes them stand apart from their competitors, ensuring they provide a quality experience with a fraction of the footprint of other spas.
Caldera Spas has outfitted its selection of hot tubs with models suited for any size family. While their smaller units seat three, it's easy to include quality spa sessions for bigger families with their Cantabria®️ spa that boasts enough room for nine.
To create an exciting experience that you can enjoy all year round, Caldera Spas®️ offers the option to add the CoolZoneTM hot tub cooling system to many of their models. This makes it easy to enjoy a comfortable jet-powered massage every day of the year.
Cool your hot tub water off to find some relief on hot summer days, or turn up the heat to melt stress away in the middle of winter. With a hot tub from Caldera Spas®️, the choice is yours.
Shop The Best Hot Tubs Brands in New Jersey
If you're ready to amplify your backyard with a spa from any of these hot tub brands, Hot Tub Central has the model for you. Our showroom is fully stocked with high-quality spas, making it easy to find your perfect match.
We began by serving the community of Toms River and have been proud to bring comfort and relaxation to your neighbors for the last 30 years, expanding to include showrooms in Oakhurst and Manalapan.
Visit one of our three conveniently located showrooms to explore your options in person today, or contact us to learn more.